No one comes to General Conference for the jokes. And yet, some of the conference moments I remember most clearly involve laughter. In 1997, after Elder Nelson gave a laudatory talk about President Hinckley, President Hinckley took the stand and said, "I thought we were conducting General Conference. It's turned out to be a funeral." He went on to challenge Elder Nelson to a duel in the basement of the Tabernacle. Later in the session, he postponed the duel. It was a fabulous moment in conference history.
What does humor in General Conference do? First, the spiritual tide of General Conference can feel overwhelming at times and humor can break it up, making it easier to be attentive to the rest of the counsel we're receiving. Second, it can teach a subtle lesson, as with the humility implicit in President Hinckley's embarrassment at being praised. Third, it can make a story that teaches a lesson more memorable, as when President Tad Callister, at the most recent conference, recounted [and all the links in this post go straight to the laugh-inducing moment, so click with caution] the time his aged mother told him she was delivering food to the elderly, to which Brother Callister thought, "Mother, you are the elderly." The joke makes the story – fundamentally about lifelong service – stand out more.
With that (limited) justification, I propose the General Conference Mirth Index (yes, it's the GCMI). To construct it, I listened carefully to the full audio of each session of conference, noting which talks had any laughter. I then re-listened to each of those talks and recorded each instance of laughter. Note that I focus on laughter, not jokes, since whether a line is a joke or not is much more subjective than whether or not a line elicits audible laughter in the conference center. (A more ambitious empiricist might seek to quantify the length or volume of laughter.) I then adjusted for the length of the talk.
Here's what I found in the most recent General Conference, last October. We didn't laugh too much. About 40% of talks (two in five) had any laughs at all; that's 15 talks with laughs in total. There were no laughs during conducting (as in President Hinckley's challenge above). Among talks that did have laughs, the average was four laughs per talk. The laughs range from one liners (apparently there's something inherently funny about hearing President Uchtdorf say "Pinterest") to stories that set up the talk (Elder Allan Packer forgetting to take the cover off his hatchet).
Across sessions, we laughed about 5½ times per hour, although to be frank, the answer to the question: "Which is the least mirthful session of General Conference?" is probably "The session in which President Uchtdorf isn't speaking."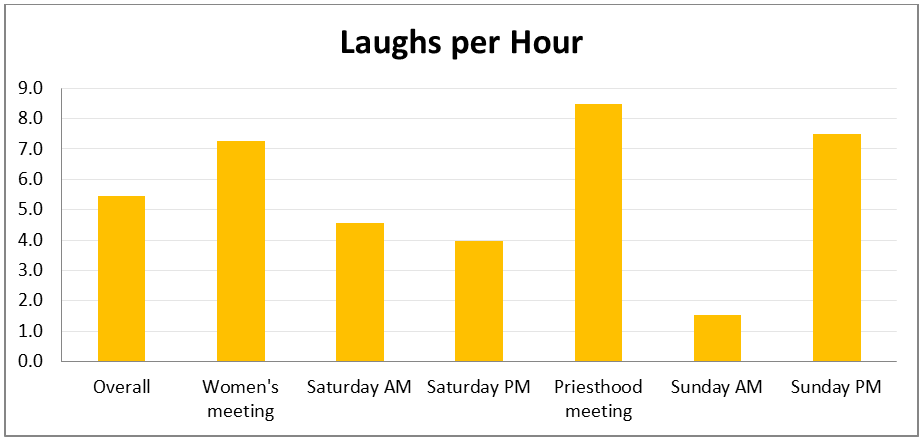 Several jokes were made about the new format, with General Authorities speaking in the language of their choice, as when Elder Christofferson opened with "Muy buenos días" or Elder Godoy joked about previously worrying about his accent in English and now worrying about the speed of his Portuguese. Only a couple of jokes didn't make it into the written record, most notably President Eyring's comment in Priesthood Session about someone he visited as a youth who kicked beer cans under the sofa and being "not a very likely success."
So here they are, the 15 talks accompanied by laughter, compiled in the GCMI. Elder Bednar takes the cake with his serial-laugh-inducing story about one of his sons treating the wounds of another. President Uchtdorf, unsurprisingly, stands out with all three of his talks among the five most mirthful (an honor to which he has most likely never aspired).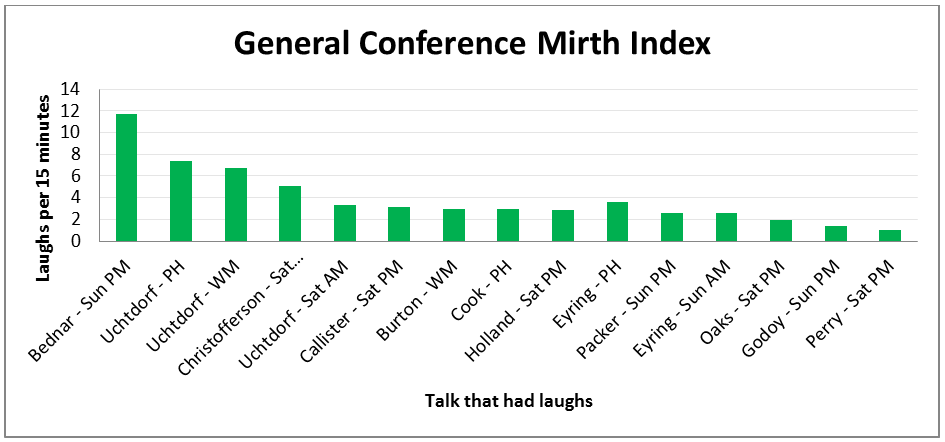 In the October 1970 General Conference, then-Elder Thomas S. Monson cited a "cardinal principle of industrial management" as "When performance is measured, performance improves. When performance is measured and reported, the rate of improvement accelerates." As an indulgent laugher myself, I can only hope that the GCMI improves performance without distracting anyone from the central goals of the assembly.
What moments of mirth do you remember most vividly from General Conferences past? What role do you feel humor plays in General Conference?
Bonus reading on humor and spirituality or the Church