This past weekend, the Church posted an Easter Video on its Youtube page, which it prominently plugged on the LDS.org front page. The video is based on a portion of Jeffrey R. Holland's moving General Conference talk from last week, None Were With Him.
The video has been a massive hit, racking up over 200,000 views on Youtube in less than two days (easily one of the most viewed videos the Church has uploaded to date, second only to "Why Mormons Build Temples" which was released last month in response to the recent Big Love controversy). The Easter Video got so many hits that it spent much of this weekend as one of the "featured" clips on Youtube and Google Video: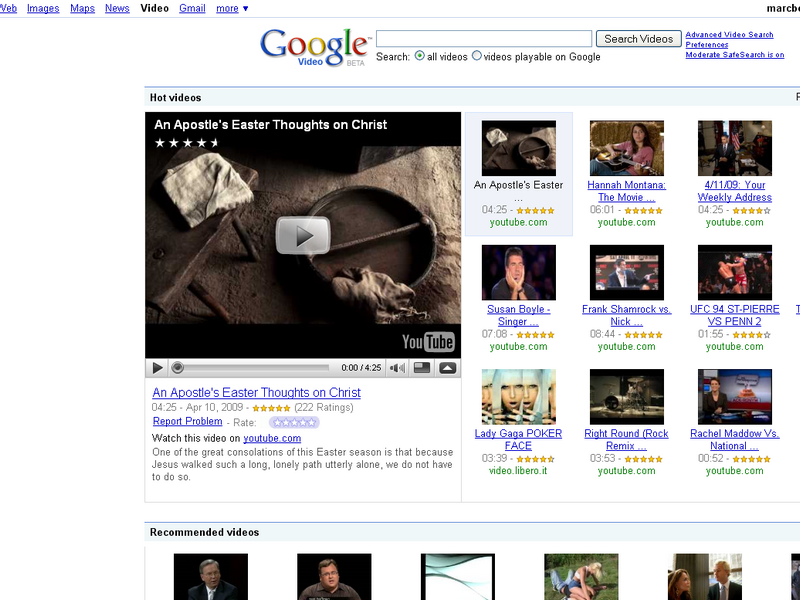 I'm interested in what others think of this new viral approach by the Church, but I find it to be incredibly effective. I think these short, well-produced and non-cheesy videos can really pack a punch, and my sense is that members find them very easy to pass along to non-member friends and family (via email, Facebook, etc.) without much fear that they will offend or turn people off. I personally felt comfortable sending the Easter Video to several pretty religious colleagues from whom I received Easter well-wishes (and these aren't people I'd feel at ease giving, say, a pass-along card to). This clip, however, doesn't give one the impression that he or she is being proselytized to, it's just an earnest and powerful testimony of the Atonement and the divinity of Jesus Christ. I think it's another example of the Church really "getting" the new media, and it's one I hope we'll see more of.